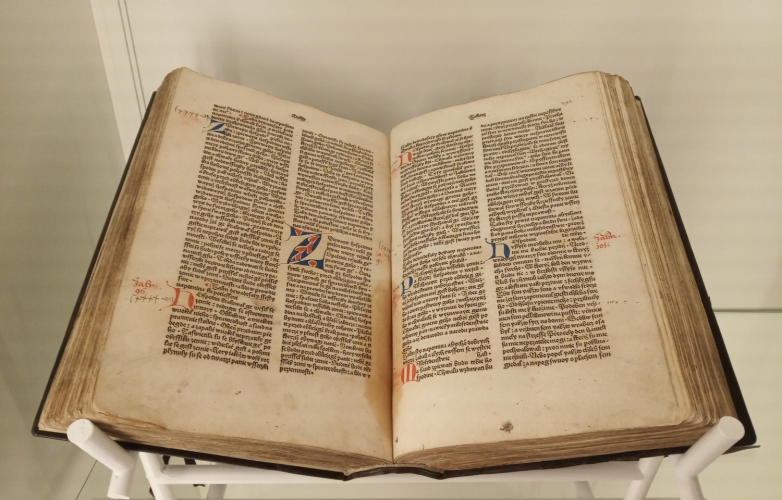 Only during the summer holidays, visitors of the Kinský Chateau in Valašské Meziříčí can see unique items from the collection of old prints that the museum has been keeping since the end of the 19th century. On display are the most valuable books and manuscripts, no matter where they were created, but have been read by people in Valašské Meziříčí or the surrounding area for centuries.

A special and most important place in the museum collection is occupied by a set of old Bibles. It is very complete, it even contains rare first editions and among them the very first complete Czech printed Bible from 1488, the so-called Prague Bible.

Another exhibited rare first print, i.e. a book that saw the light of day before the end of the 15th century, is the Kutnohorská Bible from 1489. The last first print, which can now also be seen in the museum, is the New Testament from the turn of 1497/1498.

A typical feature of first prints is that the printing work is still combined with manual work, i.e. they are decorated, rubricated, illuminated in various ways. Only 8 copies of the latter New Testament have been preserved worldwide to this day. Ours is also very well-preserved, it came to us from Laško and contains beautiful inscriptions. The last of the Bibles on display, the Venetian Bible, dates from 1506 and although it does not fall into the category of first editions, it still has many features in common with them and is also decorated by hand.

The reason why the books can be seen for such a short time is their age and the resulting requirements for their protection - this mainly concerns their illumination. Only an air-conditioned depository, in which they are permanently stored and therefore only leave it on special occasions, can offer them ideal conditions and thus preserve them "forever" for future generations.

The exhibition will also offer visitors other interesting things, such as Třanovský's prints, a selection of shopkeeper's songs and fragments of the Glagolitic manuscript.

If visitors are interested in learning more about the books on display, they can purchase the publication The Story of the Czech Printed Bible, either at the museum's cash desk or at the museum's e-shop HERE