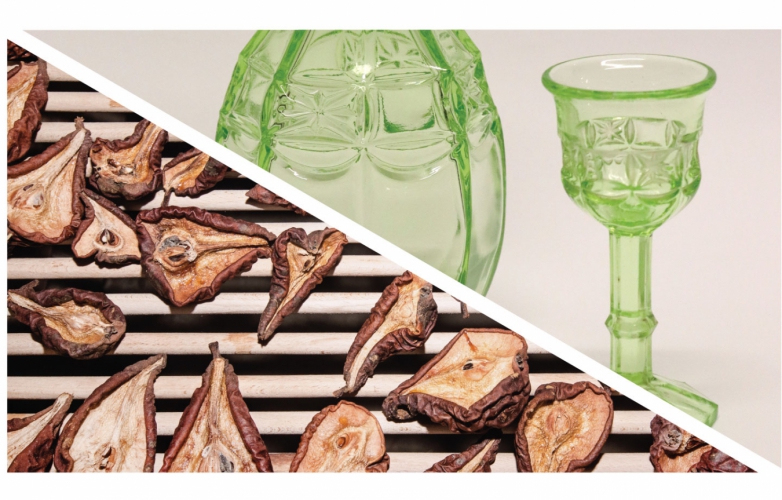 Two interconnected exbihitions, which started on July 1 in Chateau Kinsky in Valašské Meziříčí, represent the traditional fruit processing in region of Wallachia.
The first one, called Some prefers it dry, represents the tradition of fruit drying in Wallachia and the high quality of this exhibitons is indicated by the fact of winning a Special Award in the prestigious national competition of museums and galleries called Gloria musaealis. This temporary exhibition had its premiere last autumn in anothe rbranch of the Museum of the Wallachia Region, at the chateau Vsetín. Now visitors can look forward not only to a lot of unique historical exhibits, photos and interesting information, but also to a playful interactivities, which includes, for example, a scaled-down copy of a traditional fruit drying killn.
The second one, Let´s get a spirit glass, represents the production and consumption of schnapps with its positives and negatives for society at the time. It also does not bring only the mystical process closer liquefaction and subsequent tasting of the fruit. The centerpiece of the exhibition are glass schnapps from the museum's collections made in glassworks in Krásno nad Bečvou, Karolinka and Velké Karlovice. To the oldest schnapps vessels from Wallachia belongs to wedding glasses or flat bottles for plum brandy for wedding groomsmen and special castings with a chimney extended throat. A show of decorated cups and ordinary "spirit glass" and interesting facts about the production of plum brandy is complemented by information about the liquer plague, which devastated Wallachia in the second half of the 19th century.
Download